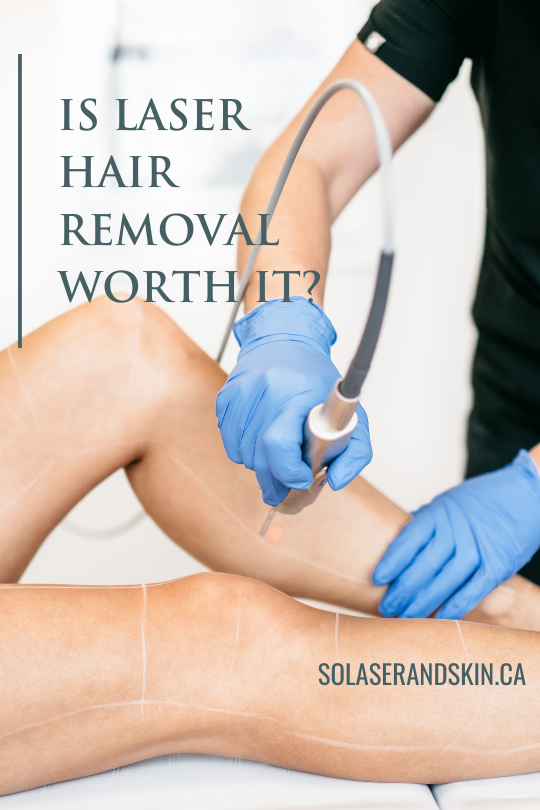 Laser hair removal is a popular cosmetic procedure that removes unwanted hair from the body using modern laser technology. At South Okanagan Laser & Skin Centre in Penticton, we take great pleasure in using the most advanced laser technology and having the best-trained staff to give our patients the highest-quality care. But why should you consider laser hair removal? Find out by reading on.
Permanent Results
In comparison to other hair removal techniques like shaving, waxing, and plucking, laser hair removal offers a far more long-lasting solution, which is one of the main reasons it is worth the investment. While these methods may provide temporary relief, they do not address the root cause of hair growth and must be repeated on a regular basis. On the other hand, laser hair removal specifically targets the hair follicles and permanently destroys them, stopping further hair growth. This means that once you've finished a series of treatments, you'll be able to enjoy results that last and say goodbye to constantly having to remove unwanted hair.
Quick and Comfortable
Another benefit of laser hair removal is that it is relatively quick and comfortable. The procedure only takes 15 minutes to an hour, depending on the size of the treatment area, and most people report minimal discomfort. In comparison, waxing and plucking can be time-consuming and painful, and shaving requires constant maintenance. Laser hair removal offers a more convenient and comfortable option for those looking to remove unwanted hair.
Cost-Effective
In the long term, laser hair removal is also more affordable. Compared to other hair removal methods, the initial cost may be more, but the results last far longer, saving you money on repeat treatments. If you regularly wax or shave, for instance, the cost of those procedures might add up over time. Although the initial cost of laser hair removal may be higher, there may be substantial long-term savings.
Safe for all Skin Tones & Hair Types
Laser hair removal is a safe option for people of all skin tones and hair types. Our Fotona Nd:YAG Laser is highly precise and can effectively treat a wide range of hair and skin types. The success of hair removal treatments depends largely on an individual's skin and hair type, as well as the skills and treatment insight of the practitioner. Most patients can expect a significant reduction in unwanted hair, and any future hair growth will usually be thinner and lighter, and thus much less pronounced than before. It is important to book a consultation with your practitioner and get a test patch done to ensure the safest outcome.
Long-Term Investment
Overall, laser hair removal is a convenient, effective, and long-lasting solution for removing unwanted hair. The long-term advantages more than offset the higher initial cost compared to other hair removal techniques. It provides a quick, relatively painless, and long-term cost-efficient permanent treatment. You can enjoy smooth, hair-free skin with laser hair removal without having to carry out ongoing care.
Book a Consultation
If you are curious about laser hair removal and would like to speak with an industry expert about whether you would make a good candidate, contact us at South Okanagan Laser & Skin Centre in Penticton, BC today to book a consultation.