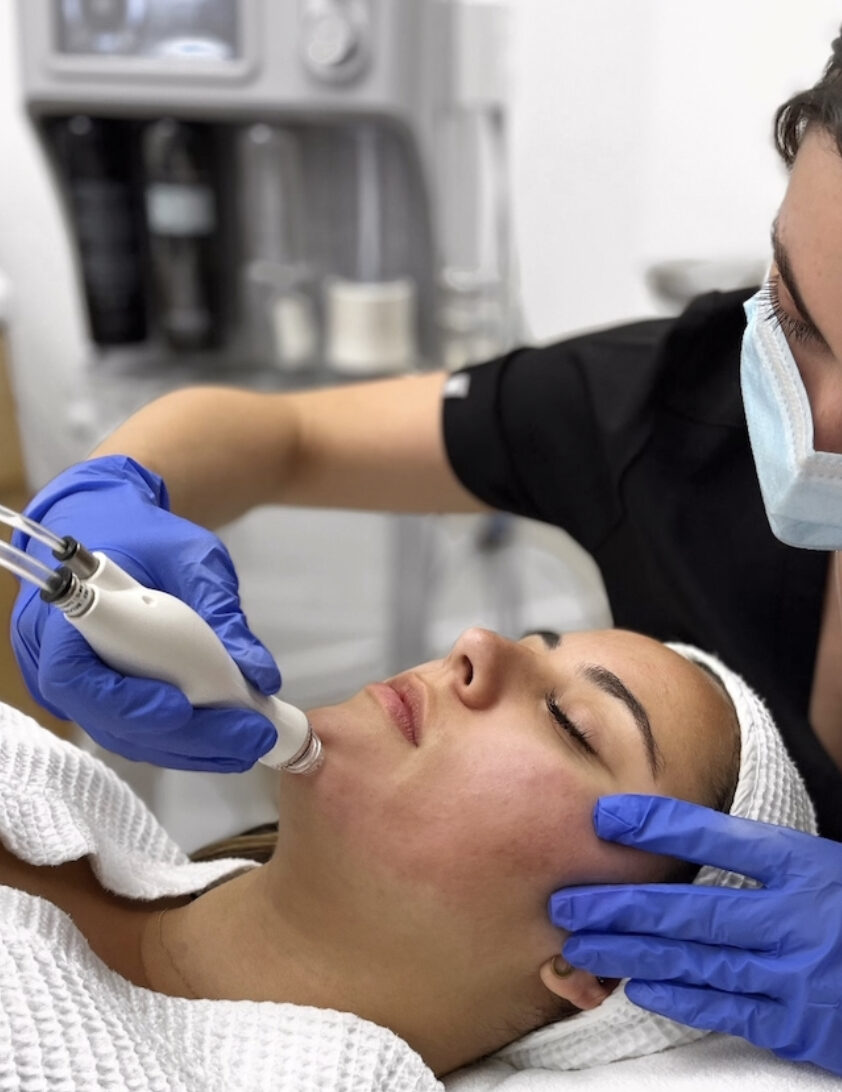 When researching your next facial treatment you may come across these two popular hydrating facials: BELA MD and HydraFacial. It can be hard to choose which treatment you would like to pamper yourself without knowing the similarities, differences, and everything in between. That's why we have taken the time to break down the two different facial treatments for you today.
What is a BELA MD Facial
Let's start with the BELA MD Facial treatment. BELA MD offers an all-in-one type of facial treatment. The BELA MD helps to improve overall skin health, without compromising the skin's barrier or pH levels. BELA MD Facials deliver medical-grade results, while still providing a relaxing experience. High-technology tools and skin products are used in the BELA MD Facial to give your skin the rejuvenation it deserves. The BELA MD Serum infusion is catered to your own personal skin needs to treat any areas of concern that are important to you. BELA MD Facials take personal pampering and overall skin health to a new level.
BELA MD Facial Includes:
Diamond Microdermabrasion
Hydrogen Water Infusion
Ultrasonic Cleanse and Extraction
Neuromuscular Stimulation
BELA MD serum infusion
Electroporation
Benefits of a BELA MD Facial:
Reduces excess oil from pores
Restores optimal hydration without damaging the skin barrier
Calms and Soothes the skin
Brightens Complexion
Reduces Photodamage
Evens skin tone
Improve Texture
Reduces transepidermal water loss
Improves firmness and elasticity
What is a HydraFacial?
The HydraFacial is a treatment that specializes in non-laser skin resurfacing. HydraFacials have become popular amongst celebrities and everyday people due to their proven results. The treatment focuses on hydration, anti-aging, and relaxation.
HydraFacial Includes:
Cleansing and exfoliation with hydradermabrasion
Gentle Chemical Peel
Extractions
Time for Personalised Treatment
Serum Application
Benefits of a HydraFacial:
Reduces the appearance of fine lines and wrinkles
Hydrates the skin
Reduces the appearance of blemishes and redness
Improve skin tone and texture
Reduces enlarged pores
What are the similarities between the two?
There's no question that both of these facials will deliver noticeable results while providing a spa-like experience. Both facials hydrate the skin, cleanse and exfoliate the skin, improve skin tone and texture, and have options to personalize the treatment.
Is the BELA MD Facial better than the HydraFacial?
There are reasons why the BELA MD Facial is better than the HydraFacial, and the biggest reason is because of the tools used. The BELA MD facial is a 5-in-one treatment that uses high-technology tools and products that make a significant difference to the skin long term. Some of the tools used are the BELA's Y Handpiece for Muscle Massage and Stimulation, Electroporation Device to moisturize the micropores of the skin, Ultrasonic Skin Scrubber for deep cleansing and exfoliation, and last but not least the Dry Diamond Tip microdermabrasion tool. A diamond tip microdermabrasion tool will give much more noticeable and lasting results than the hydro dermabrasion used in the HydraFacial.
Book Your Facial Treatment
It's no doubt that both of these facial treatments are going to benefit your skin in positive ways, however, we strongly recommend the BELA MD Facial if you are looking for a truly revitalizing facial. If you are ready to pamper yourself and completely rejuvenate your skin, contact us today at South Okanagan Laser and Skin Centre to book your appointment.